Discover more from DeFi Tutorials
Walk-through guides using popular DeFi instruments to highlight some of the best use-cases & risks involved. Have a hard time keeping track of all your DeFi positions? Zapper.fi is the ultimate hub to learn, access & manage your assets & liabilities.
Over 3,000 subscribers
MyCrypto⚡️Zaps Tutorial
Learn how to earn interest on your ETH with MyCrypto Zaps!
⚡️⚡️⚡️⚡️⚡️⚡️⚡️⚡️⚡️⚡️⚡️⚡️⚡️⚡️
Today MyCrypto unveiled their new integration with DeFiZap 🥳🙌🎊🎉
This integration starts with 3 general Zaps based on investment goals. In the coming weeks they will keep enabling more and more experiences. We love how MyCrypto is keeping education at the core of their approach and are extremely honored to work with them!
The following tutorial was originally published on MyCrypto Blog.
⚡️⚡️⚡️⚡️⚡️⚡️⚡️⚡️⚡️⚡️⚡️⚡️⚡️⚡️⚡️⚡️⚡️⚡️⚡️⚡️⚡️⚡️⚡️⚡️⚡️⚡️⚡️⚡️⚡️

Our friends at DeFiZap made it easy to enter into decentralized finance, and now you can start earning interest on your ETH without leaving MyCrypto.
---
How To Make Your ETH Work For You
Upon visiting your MyCrypto dashboard, you'll see this new area. You'll see a summary of the available zaps, how they work, and your balances.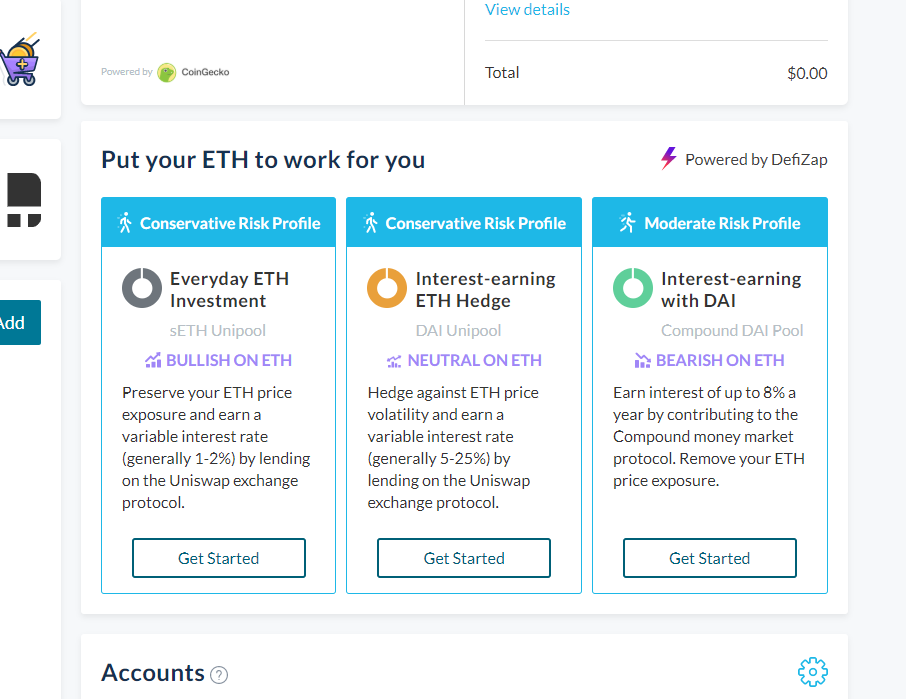 Click "Get Started"
1. Choose what looks best to you and click Get Started.
Then you'll land on the Zap info page.
This page explains how the zap works, the risks/rewards, and a FAQ section.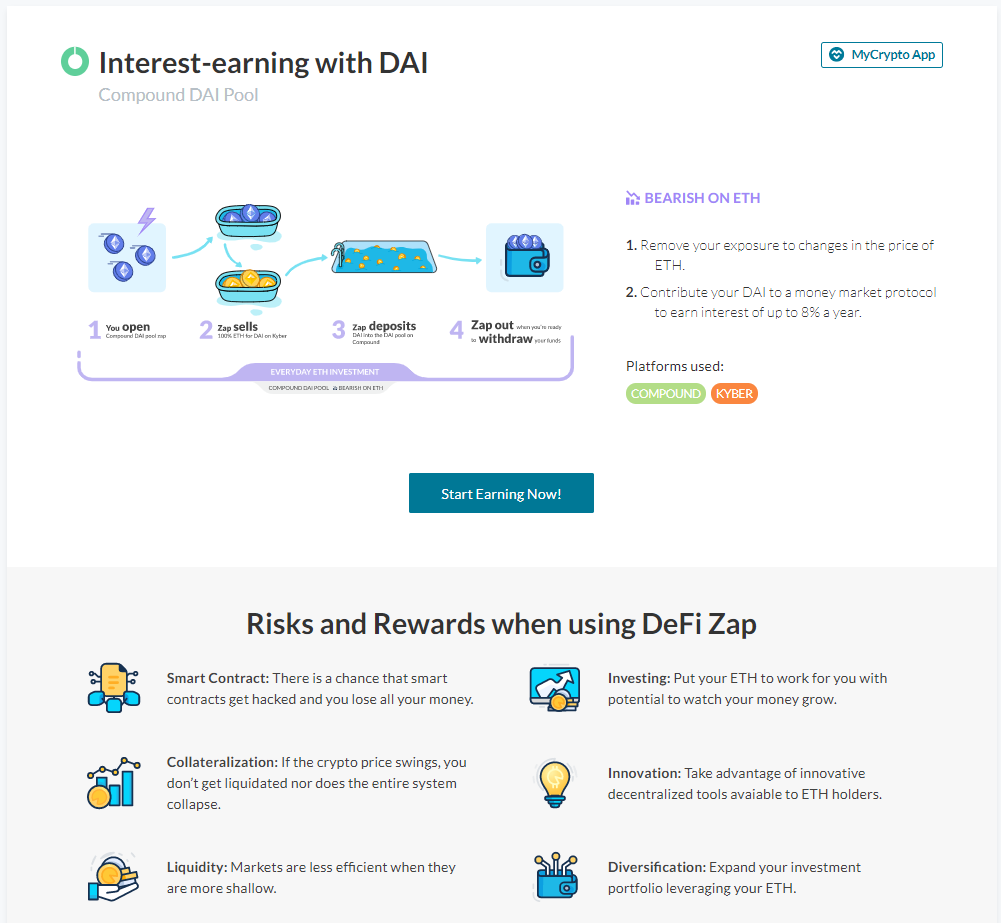 Click "Start Earning Now"
2. Click "Start Earning Now" to go into the deposit flow.
This is where you'll select the account you want to deposit from and the amount you want to start earning interest on.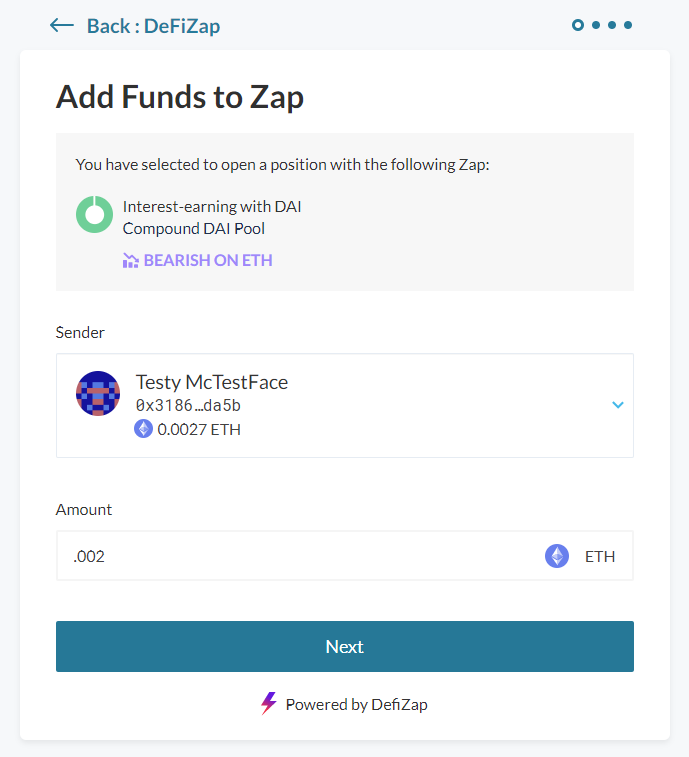 Click "Next" and then confirm your transaction
3. After filling out the information, click Next.
4. If everything looks good, confirm your transaction.
5. After the transaction has completed, go back to your dashboard and you'll see your balance!
(This may take a few extra seconds to appear)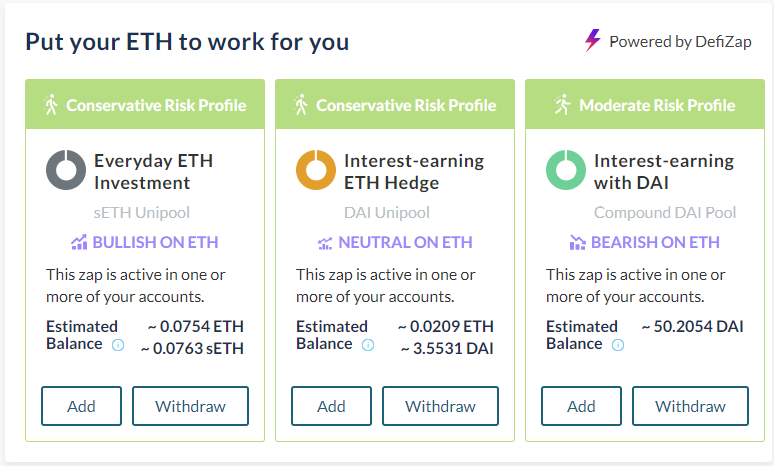 This is what you'll see if you have all three zaps active
---
Even if you didn't open your zaps on MyCrypto, we'll detect if your account has balances in them.
We're excited for this feature and while we've made Ethereum more accessible, we're excited to take a step into #DeFi specifically.
This is a beta product, and every now and then it may act as such. If you experience a bug, please let us know.
We cordially invite you to test this, break this, and share your thoughts.
THANK YOU! ❤
⚡️⚡️⚡️⚡️⚡️⚡️⚡️⚡️⚡️⚡️⚡️⚡️⚡️⚡️⚡️⚡️⚡️⚡️⚡️⚡️⚡️⚡️⚡️⚡️⚡️⚡️⚡️⚡️⚡️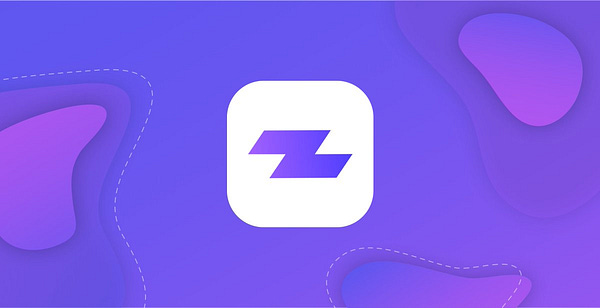 70 Retweets181 Likes
‌
Resources

To learn more about the benefits of being an early adopter and shaping our product, join our Discord.
⚡️ ⚡️ ⚡️ ⚡️ ⚡️ ⚡️ ⚡️ ⚡️ ⚡️ ⚡️ ⚡️ ⚡️ ⚡️ ⚡️ ⚡️ ⚡️ ⚡️ ⚡️ ⚡️ ⚡️ ⚡️⚡️ ⚡️⚡️
*Please note that Zapper.fi is an experimental project. Zapper.fi is not providing any investment advisory or recommendation service. By using Zapper.fi or its services, you agree that you are using the Services at your own risk and that you will not and do not hold Zapper.fi or its team members liable should the services not perform as per your expectation. Zapper.fi is not a licensed financial advisor under any law. Please consult your own independent investment advisor before making any investment decisions.